About NXL
NXL is thrilled to be involved with the EmpowerPharm Inc. project, one of Canada's newest pharmaceutical companies.
EmpowerPharm aims to become a global pharmaceutical leader in CBD-based therapeutic products; one that is striving to be the first Canadian pharmaceutical company to earn a Drug Establishment Licence from Health Canada for manufacturing prescription CBD products.
With NXL's involvement in this project, an existing and outdated pharmaceutical building was reconfigured into a state-of-the-art GMP facility. The EmpowerPharm project will encompass approximately 20,000 sf of renovated space which includes manufacturing, quality assurance, warehousing, administration, receiving and shipping areas. The renovation involves switching the existing production and warehousing areas to maximize GMP production capabilities, reorganizing GMP support spaces to improve people, air and materials flows, minor changes to the office, and the addition of employee amenities such as larger washroom, lunchroom and boardroom. The interior and exterior design of the building will incorporate EmpowerPharm branding. NXL led the design and is currently focused on construction administration activities with its consultant team to ensure EmpowerPharm's expectations are met at every stage of the process. Currently, construction is well under way, and significant changes can be seen on a regular basis.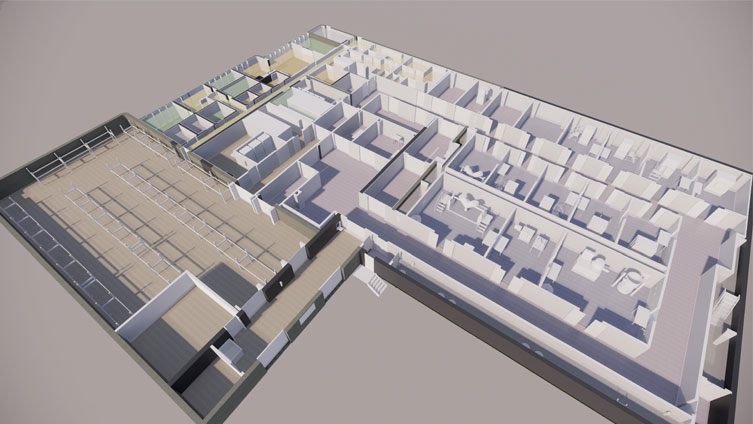 Team Profile
Jay Levine
OAA NLAA NBAA MRAIC
Principle in Charge
Jay Levine is the founding principal of NXL Architects, a leading Canadian architecture firm specialized in Science and Technology facilities. A graduate of University of Waterloo, for over thirty years Jay has focused on the design of scientific research and clean environment spaces, combining design principles from both academia and industry to create complex facilities that work well. Through working with clients such as York University, Carleton University, University Health Network (UHN), Eurofins Alphora Research Inc. and Therapure Biopharma, Jay values the importance of strong collaboration between the client and design team. In his capacity as an authority on the design of complex, controlled-environment facilities, Jay has spoken at leading conferences for Tradeline, SLCAN, Life Sciences Ontario, and the International Society of Pharmaceutical Engineers. For the EmpowerPharm project, Jay's involvement with programming, planning, and concept design ensured that the design team created a safe and effective facility—a dynamic workplace that will fully support EmpowerPharm's goal to become a global leader in CBD-based therapeutic products.
Steven Roy
OAA NLAA NBAA MRAIC
Principle in Charge
A graduate of La Cite Collegiale in Ottawa, Steven is a PMP-certified Architectural Technologist with more than ten years' experience in managing both small and large-scale projects. Since joining NXL in 2016, Steven has led complex, process-driven projects for institutional clients such as Michael Garron Hospital as well as development and manufacturing facilities for cannabis and cosmetics. Steven's varied project experience and project management expertise, as well as his excellent communication skills and ability to focus large, diverse teams to drive projects forward makes Steven an excellent project leader. On EmpowerPharm, Steven has worked closely with the owner and the design team from project inception to construction, leading the team to develop and implement a design that ensures fast-track delivery of a facility that fully meets the owner's expectations.