Strategic partnership with Santé Cannabis
As a biopharmaceutical company with the mandate to provide patients with a new and innovative cannabinoid-based treatment formulation, EmpowerPharm has dedicated itself to partner with leading Canadian clinical research organizations. While focusing on manufacturing high-quality GMP products in their Burlington facility, EmpowerPharm identified the need for support from a leading clinical research organization to complement its expertise and support the development of a world-leading clinical program of CBD treatments.

Santé Cannabis, a Quebec-based medical clinic and Contract Research Organization (CRO) specializing in medical cannabis, was identified as the best partner to support EmpowerPharm to achieve its objectives. As the first and foremost medical clinic in Quebec specializing in cannabinoid-based treatments, Santé Cannabis operates four clinics across the province, with a multidisciplinary medical team of family physicians, specialists, and research nurses; and a diverse research team of research scientists and regulatory, data, and clinical trial experts. Over the past five years, Santé Cannabis has become a leading CRO that offers clients a full range of services, including expert consultation on cannabinoid-based product development and the design of efficient clinical trials according to the highest internationally respected standards. As both a CRO and a clinical site, Santé Cannabis has established a unique database of patient outcomes and offers patient recruitment for both observational and interventional trials, data collection, and publication.

The unique model of research used at Santé Cannabis clinics contributes to acquiring real-world data with each patient interaction. Santé Cannabis is well centered to serve both patients and research, while keeping up to date with ongoing regulatory challenges and partnering with emerging biopharmaceutical companies to advance cannabinoid-based drug development.
Santé Cannabis's mission is to constantly provide more options to patients by improving the clinical science, knowledge and available patient care in multidisciplinary medical fields. To fulfill this mission, Santé Cannabis will relentlessly advocate for bringing available science's edge technologies to both patients and health care professionals, to realize a future where patients can have access to evidence-based cannabinoid treatment options at any healthcare service point.
Santé Cannabis team
Erin Prosk, MSc
Co-founder and President of Santé Cannabis
Erin Prosk is the co-founder and President of Santé Cannabis.

Under the leadership of Ms Prosk, Santé Cannabis has emerged as Quebec's leading medical cannabis organization and a global leader in medical cannabis research and training.

Ms Prosk studied applied mathematics and bioinformatics at McGill University and the University of British Columbia. Afterwards, she pursued the analytical approach to data available on cannabinoid-based treatments, fulfilling the goal of providing actual high-quality evidence for questions put forth by health care professionals regarding cannabinoid base treatments.

As a philanthropist, she took the initiative to forge Santé Cannabis as a nexus of hope to help patients in need of innovative treatments under the legal regulatory framework in Quebec. She has grown this specialty clinic into a research-oriented organization specializing in the design of efficient clinical trials, protocols, tools, and procedures for data collection, conduct, and reporting clinical trial results. Since 2014, Santé Cannabis has supported more than 7,000 Quebec patients in accessing medical cannabis under supportive and physician-supervised care.
Antonio Vigano, MD, MSc

Research Director
Dr. Antonio Vigano is the Research Director of Santé Cannabis and the principal investigator for several medical-cannabis-related clinical trials, including the Quebec Cannabis Registry. He has extensive experience in the field of medical cannabis, having evaluated and monitored more than 1,500 medical cannabis patients since 2015.

As an expert in palliative medicine, Dr. Vigano is the director of the Cancer Rehabilitation and Cachexia Clinic at McGill University Health Centre and an Associate Professor at the Department of Oncology and Medicine at McGill University.

As a graduate of the University of Milan School of Medicine and the University of Alberta, Dr. Vigano has been the recipient of many awards, honours and distinctions over the course of his 30-year career.
Cynthia El Hage, PhD, MSc

Director of Research & Innovation
Dr. Cynthia El Hage leads the department of research at Santé Cannabis and directs all research projects for the advancement of cannabis-related research.

Dr. El Hage holds a Ph.D. in Neurosciences with a specialty in Psychiatry and Addiction from the University of Lyon-France. She completed two post-doctoral fellowship trainings at the Centre hospitalier de l'Université du Montréal, including a focus on studying medical cannabis in patients suffering from psychostimulant drug abuse and comorbid mental health disorders.

Dr. El Hage has led both fundamental and clinical research projects. She has an exceptionally diverse research experience, having worked in Lebanon, France and Canada. With over a decade of research experience and more than five years of experience specifically in the medical cannabis research field, Dr. El Hage is a clear leader in this emergent field. Dr. El Hage has several publications in peer-reviewed journals and conferences, has won several awards, and recently contributed to a scientific textbook on cannabis and its medical use.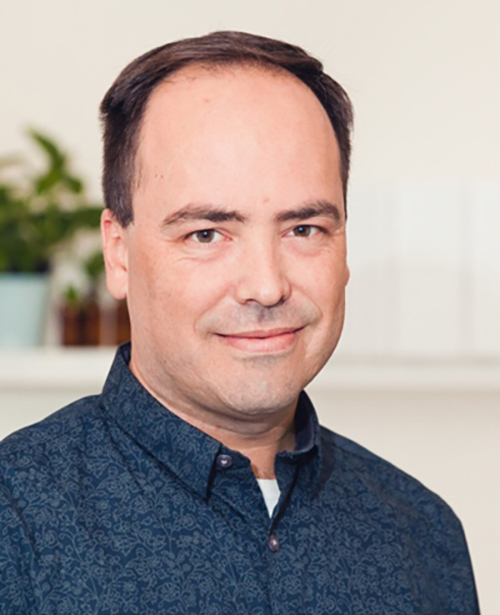 Rafael K. Varaschin, PhD, PharmD

Regulatory Affairs Manager
Dr. Rafael Varaschin leads the Regulatory division of Santé Cannabis, managing relationships with regulatory authorities, including Health Canada and the FDA, in the ever-evolving cannabis regulatory landscape.

Dr. Varaschin leads the development of regulatory strategies, clinical trial design, CTA and IND applications and REB submission.

Dr. Varaschin brings a unique experience to the field of medical cannabis with more than 10 years of experience in neuroscience research, including two post-doctoral fellowships (Université de Montréal and McGill University, Canada) in the areas of Parkinson's disease, synaptic plasticity and neuromodulation. He earned a Ph.D. in Biomedical Sciences with focus on neurosciences, fetal alcohol spectrum disorder and cognition (Albuquerque, USA), a M.Sc. in pharmacology in the area of behavioural neuroscience and a Pharmacist degree (Florianopolis, Brazil).
EmpowerPharm's first milestone in their clinical program development
As a first milestone in developing a clinical program to study EmpowerPharm CBD formulations, the Santé Cannabis research team performed a scoping review on plausible human applications of CBD to determine the most promising indication while considering all clinical, regulatory and market access aspects of the clinical development plan. The review covered a critically appraised review of current literature on human trials of CBD and actual real-world data from Santé Cannabis' proprietary clinical dataset. The resulting scientific report was developed and reviewed by a committee of external clinical research experts. During the presentation and analysis with the EmpowerPharm founding team in August 2019, the treatment of chronic, clinical anxiety emerged as being the most promising indication to pursue.

Santé Cannabis then developed a focused version of the report to present at the inaugural EmpowerPharm Medical Advisory Board meeting. This meeting was organized and hosted by Santé Cannabis in late November 2019 and brought together a group of experts in the field of mental health and specifically in the field of anxiety disorders. The scientific report and a first study synopsis were reviewed and critiqued by this world-leading group of psychiatrists.

The input from this important meeting has further refined the clinical development plan for EmpowerPharm. Santé Cannabis has finalized the initial clinical trial study synopsis that will be presented to Health Canada in a pre-clinical trial application (pre-CTA) meeting in late February 2020. This unique, complementary partnership between EmpowerPharm and Santé Cannabis in 2019 has provided the foundation needed for the years to come as EmpowerPharm emerges as a leading biopharmaceutical company committed to the development and provision of pharmaceutical-grade CBD treatments.
Medical Advisory Board Members
Dr. Martin Katzman MD FRCPC
Dr. Katzman is the Clinic Director and Staff Psychiatrist at the S.T.A.R.T. Clinic (Stress, Trauma, Anxiety, Rehabilitation and Treatment) for Mood and Anxiety, Toronto, Ontario. He is a well-known expert on the matter of anxiety and other related psychiatric disorders. He is also a faculty member at the Northern Ontario School of Medicine (Laurentian University and Lakehead University). Dr. Katzman is appointed in the Department of Psychology at Lakehead University and is a member of the Faculty of Psychology at Adler School of Professional Studies.

Dr. Katzman was trained at the University of Toronto, first undertaking his B.Sc. in Psychology and Neuroscience, and subsequently his medical training and residency. His clinical work deals mainly with the diagnosis and treatment of patients suffering from mood and anxiety disorders, as well as those suffering with chronic Attention Deficit Disorders, Executive Dysfunction, and chronic pain.
Dr. Sagnik Bhattacharyya MD PhD
Dr. Bhattacharyya is a Professor of Translational Neuroscience & Psychiatry at King's College, London, UK. He is a pioneer researcher in the field of the effects of cannabinoids on different human brain functions. He has been part of international research groups focusing on different psychiatric and basic neuroscientific research regarding the interactions between the endocannabinoid system and human cognitive functions. Dr. Bhattacharyya specializes in neurobiology of schizophrenia, diagnostic imaging techniques and cannabinoids' mechanism of action.
Dr. Michael Van Ameringen MD FRCPC
Dr. Van Ameringen is a full professor at the Psychiatry and Behavioural Neurosciences department at McMaster University. After graduating from medical school, he completed his residency in psychiatry and subspecialized in child psychiatry. His current research is focused on the psychopharmacology of anxiety disorders and comorbid mood disorders, obsessive compulsive and related disorders, the relationship between the gut microbiome and OCD, Social Anxiety Disorder, Generalized Anxiety Disorder and treatment resistance. He is a member of the Board of Directors and the Scientific Council of the Anxiety and Depression Association of America and is on the editorial board for the Journal of Depression and Anxiety. Dr. Van Ameringen has published widely in the area of OCD and anxiety disorders.
Dr. Arun Ravindran MBBS, PhD, FRCPC
Dr. Arun Ravindran is a full Professor at the Department of Psychiatry, University of Toronto; he also is the director of global mental health project and the office of fellowship training of University of Toronto. He contributes to the Campbell Family Mental Health Research Institute at the Centre for Addiction and Mental Health as a research scientist. Dr. Ravindran's clinical and research interests are in the area of mood and anxiety disorders. His research focus is on the behavioural pharmacology of psychotropic agents and their synergy with psychological and alternative therapies, and the use of functional neuroimaging to examine the etiology and treatment correlates of these illnesses. He has received the Donald A. Wasylenki Award for international partnerships, education and social responsibility from the Department of Psychiatry, University of Toronto. He enjoys contributing to humanitarian global mental health projects.
Dr. Henry Olders MD, FRCPC, BSc
After completing his psychiatric training at McGill University, Dr. Olders joined the staff at Douglas Hospital as treating physician and also the Director of the Psychogeriatrics Programme. Afterwards he worked at the Sir Mortimer B. Davis – Jewish General Hospital in their Psychogeriatrics Clinics, and also as an assistant professor of psychiatry at McGill University. Later in his career, he practiced at Ste. Anne's Hospital in Ste-Anne de Bellevue and looked after the hospitalized war veterans between 2005 and 2016. His work with chronic psychotic patients and their families led to receiving the Exemplary Psychiatrist Award in 1995 from the National Alliance for the Mentally Ill (NAMI). In 2005 he was awarded the Henry Kravitz Teacher of the Year Award by the psychiatry residents at the Jewish General Hospital. As a computer science engineer, he has combined the two realms of science. Dr. Olders is interested in research into the role of sleep patterns in causing depression and anxiety, affective disorders and cognition, and machine learning.